Sign-ups are currently underway and last day to sign up is Saturday, September 9, 2023 at 2pm PST.
Why is RENO Proxy the preferred proxy service for players and celebrities?
Change Picks: We are the only proxy that allows customers to change their picks any time before our pick deadline.
Cheapest: Other proxy services charge the customer as much as $300 for identical services.
Easy Customer Submission Process
No Commission Fees on Contest Winnings
Never Miss a Pick: We submit 5 picks on your behalf if you ever miss our deadline so you'll never get a zero.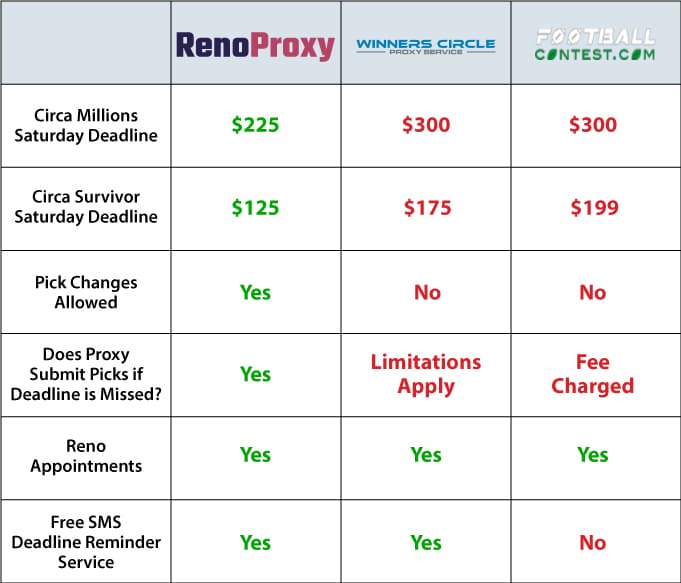 Compete against the world's best for your chance at millions! If you live out-of-state but want to enter any of the biggest football handicapping contests in Reno, you've come to the right place. A proxy is needed for contestants who live outside Nevada or for residents who don't want the hassle of entering picks each week. Players can enter any of the biggest sports handicapping contests in 4 easy steps:
Schedule a date and time to meet with a Football Proxy representative at the designated casino to sign some forms and get entered into the contest.
We'll provide you login credentials to access our online portal to submit contest picks each week.
No need to be in Vegas after sign-up since we'll enter the picks each week on your behalf. Sit back, relax and sweat your picks during the season!
To hear more details and to get started, fill out this form and a representative will contact you to answer any questions and schedule an appointment. Then book your trip to Reno and meet us at the designated casino to get signed up. Once the season starts, sweat the action all season long with your picks!